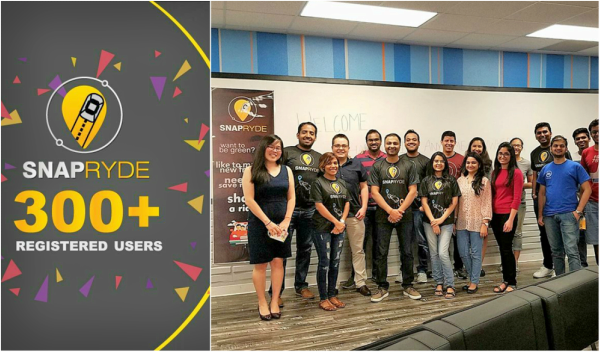 SnapRyde a Startup Team from the 2016 Batch of iStart Valley Accelerator Program launched its app on 21st March. Within 4 days of its launch SnapRyde has garnered 300+ registered users using the service. We wish them a big success in days to come and a smooth Ryde ahead.
SnapRyde provides a unique platform where driver gets privilege to bid their price and riders will be matched with the cheapest bid available. People sharing the ride pitch in some amount for drivers to cover the gas expenses, cutting down the expenses on commute for both Riders and Driver. We highly value the green environment and our vision is to reduce the carbon footprints for a cleaner, healthier environment.
Mayank Jain, Co-Founder and CEO of SnapRyde says "We whole heartedly thank iStart Valley for supporting us in transforming our idea into a startup. The personal attention, guidance and mentoring from them is helping us in understanding the startup ecosystem and coming up with the best strategy to develop a world-class enterprise level product. We are fortunate to collaborate with them in our journey towards success and look forward to keeping working with them in near future". Mayank put together a team with Shraddha Jain as the Co-Founder and CTO and Samvaran Kashyap Rallabandi as the Co-Founder and CTO working deligently to transform the idea into a successful Startup.
iStart Valley offers a 9 Month Startup Accelerator Program for the technology Startups to transform ideas into growing Technology Startups. For more information check out - http://istartvalley.org/programs/accelerator.html. Next batch of the Accelerator program for the year 2017 is expected to begin May-June timeframe.